Cory & Ashley
Home State
North Carolina
About Us
We met while attending college. We both were getting degrees in Animal Science and quickly learned we had a lot in common. After two years of friendship, we finally started dating in 2012. Ashley began graduate school while Cory was finishing up his undergraduate degree and finding a job in the dairy industry. After two years of dating, Cory popped the question, and Ashley said "YES!" We were married in the spring of 2015. Fun was has had by all our friends and family. The day was a dream come true. God truly blessed us with a wonderful celebration we will never forget. We honeymooned in the Dominican Republic. Neither of us had ever been out of the country, so it was an experience. We enjoyed relaxing on the beautiful beaches and were able to swim with dolphins, which was something Ashley had wanted to do since she was a child. The food was amazing, Cory especially loved the food being all-inclusive. We have been married for almost eight years now, and our son, Noah, is almost 2 years old. We cannot have children naturally, and we have been amazed by watching God's plan for our family unfold through the adoption of our first child. We love the idea of a large family, and we can see God working as He prepares each one of us for another addition to the family. We are very fortunate in the fact that our families live fairly close to us and both our families are excited and happy to help out with this new addition!

We are looking forward to growing our family through any of the following adoption opportunities:
Type
Open , Semi-open , Closed
Gender
Any gender
Race
Caucasian descent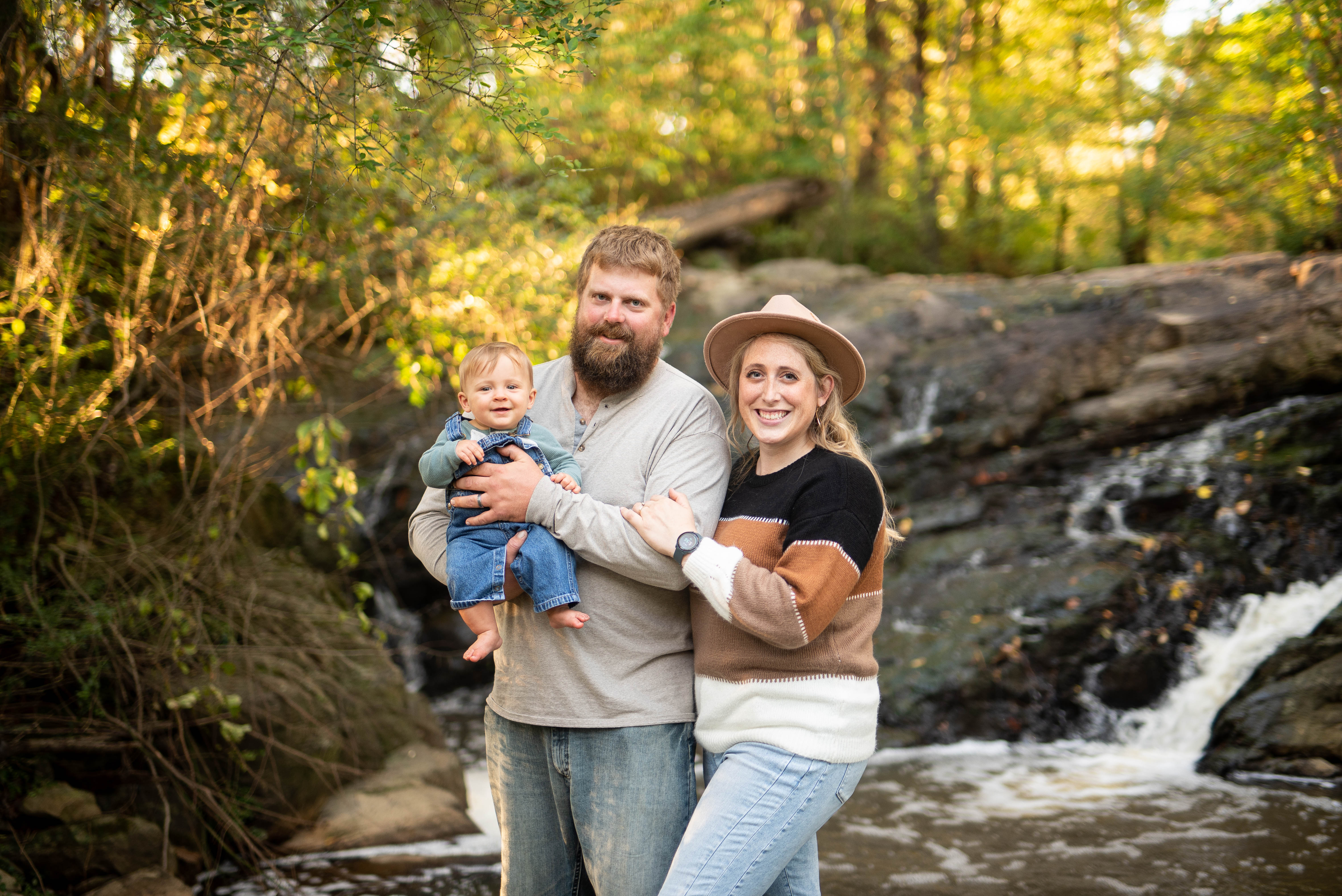 Cory's TESTIMONY
I asked Jesus into my heart March 29th, 1998 at a drama my church was hosting called, "Heavens Gates and Hells Flames". Being as young as I was, I didn't fully understand baptism for a few years but was also baptized in the same church. Growing up I was involved in several week long mission trips to West Virginia to work with missionaries in areas of high poverty, mostly on their homes. I learned how to step out in faith and talk to people about what Christ did for them. I also helped with VBS at my church, it was a blessing to watch kids have fun learning about Jesus. I was fortunate enough to grow up in church, as well as my parents and all my grandparents, it has shaped me into the man I am today. I especially appreciated that fact as I went off to college. Coming from a small town, everybody went to church. At a major university, you're an odd ball if you go to church and aren't partying every night. I realized that, these days, being an odd ball means you're probably doing it right. My Christian walk has taught me that standing firm in my convictions may not be popular at times but it's necessary in this ever increasingly evil world we live in. Watching God at work through our first adoption and in our current adoption journey has strengthened my faith.

Ashley's TESTIMONY
I was blessed to grow up in a Christian home where we attended church every Sunday and most every Wednesday night. I grew up participating in GAs, Bible Drill and church sports leagues. When I was 8 years old I accepted Christ as my personal Lord and Savior. I went through Discovery class and was blessed to get baptized with my Father, as he reclaimed his salvation since he was just sprinkled as a child. I went on living for Christ and strengthening my faith through daily devotion and prayer time, as well as involvement in my school's FCA and church's youth group. I would say my faith really took shape when I went to college and watched God's plan for my life unfold as I made new friends who were strong in the Christian faith, learned to live on my own, found my passion for Agriculture and most importantly lead me to a new church family. I joined the choir and found my love for worshiping the Lord. Over the years I have helped with vacation bible school and teaching Prims on Wednesday night. I also participated in missions trips in college through Christian Veterinarian Missions group where we went to the Navajo Reservation out West and showed the Native Americans the love of Christ through veterinarian care. We were able to minister to children, adults and seniors who were all very excited to hear the good news and to get their very own bible. It was truly a blessing helping those who have little and offering them the gift of eternal life, those experiences truly strengthened my faith. Seeing God's hand at work in our first adoption has also strengthened my trust in Him, for my life and the life of the family He has in store.
Our Christian Commitment
We have both had the privilege to grow up in a Christian home and to have accepted Christ as our personal Lord and Savior at a young age. We both have a daily relationship with God through prayer, bible reading and devotionals. We are both very involved in our church. Cory is in the men's ministry and has helped complete several projects with the group, he also serves as a camp counselor for their annual Royal Family Kids Camp and has volunteered to watch babies in the nursery on occasion. Ashley is a member of the choir and sings on the praise team occasionally, she has helped with Royal Family Kids Camp, VBS and with the Wednesday night children's ministry. They both have also volunteered for several fall festivals and community events. We have been going to our church since we were in college, almost 14 years ago!
Vision For Raising A Child
Our goal as parents is to as closely mimic our parents and grandparents as much as possible. The older we get the more we realize how blessed we were to be raised by Christian families. Doing what's right even if not popular, or when no one is looking, says a lot about who you are as a person. We will raise our children to love the Lord and will 'lead by example' to show them what being a Christian is all about, every day, not just Sunday mornings. We believe it is important to instill consistency in a child as they are learning to have a daily relationship with Christ. As they learn right from wrong and as we study the Bible we hope they will see the world with a Biblical perspective and grow up to be strong men/woman of faith.