Jake & Amanda
About Us
HELLO! We are Jake, Amanda, Abigail, and Zumi (our dog). We are a fun-loving and adventurous family who has always had the dream to add to our family. We are so excited to pursue this possibility through adoption! We are so honored that you would take the time to get to know our family a little more. We are a family who works hard, plays hard, loves hard and can't wait to share that with another little one. Our family journey started in 2009 when we first met. We soon knew God was leading us to start a new journey together as husband and wife. We were married in 2011 and have enjoyed the wild ride of marriage since then. In 2015, God blessed us with Abigail. She opened our eyes to the incredible love of a parent for their children. We so look forward to when our family expands and our lives are once again changed forever.
We are looking forward to growing our family through any of the following adoption opportunities:
Type
Open , Semi-open , Closed
Gender
Any gender
Race
Any Race
Circumstances
Differently-abled
Older children up to age Age: 5
Twins
Sibling groups up to 2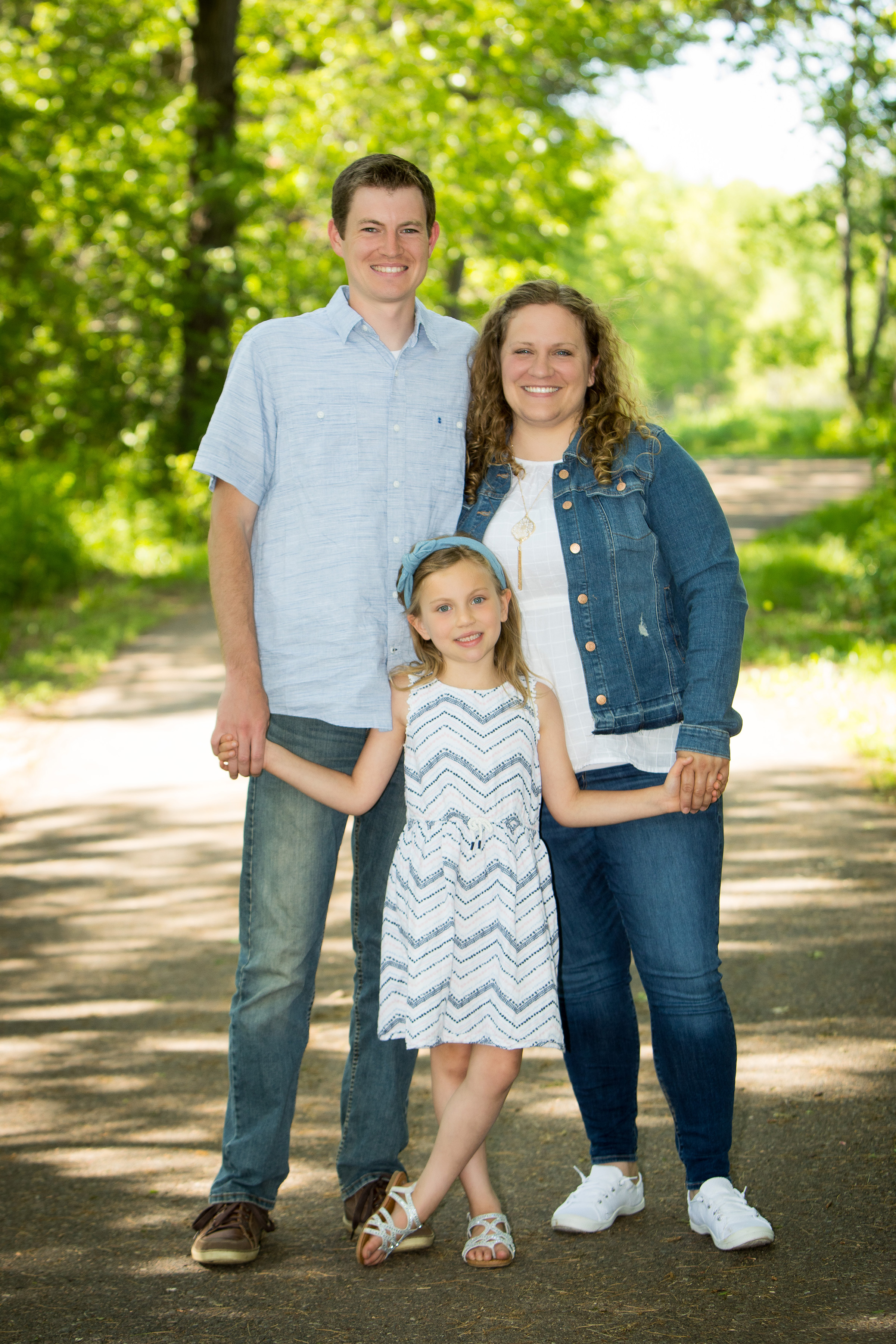 Jake's TESTIMONY
A baptized Christian lives a new life in Christ as a sinner and a saint. The baptized life is a daily living of repentance under the law and forgiveness that comes from the gospel of Jesus Christ. The Word of God is inspired by the Holy Spirit and used for directing one's actions and teaching divine wisdom. The Word of God can be used for instruction, rebuking, and guidance for Godly Christian living. The Word calls us to live in the sacramental life in the practice of baptism and regularly receive the Body and Blood of Christ as part of our faith walk in this life. The faith and hope one has in the gospel of Christ should be shared, first with the raising and upbringing of a family, then in the gathering of the church, then into the community and beyond out into the world.

Amanda's TESTIMONY
My faith walk began the day God made me His child in my baptism at just one month of age. The Holy Spirit was alive and working in me to strengthen my faith throughout my entire life. The gift of God's grace was given to me; a sinner in need of salvation, the washing of my sins away as far as the east is from the west. As I grew, my faith and understanding of who God is and what He has done grew as well.

I was blessed to be raised in a strong Christian family. My father was a pastor and also a great spiritual leader in our family. My mother knew the importance of daily prayer and Godly instruction for our family. They both sacrificed so my siblings and I could attend a Christian school all the way from kindergarten through senior year of high school. They knew that the Holy Spirit would utilize them as parents and the teachers that would enter my life to help teach me God's Word and hold it close. Throughout my childhood, I can remember that first and foremost in my life. His Word was my guide as I grew. The Bible helped in the moments of joy, sorrow, confusion, and challenges of growing up in a sinful world.

As I approached adulthood and the time of going out on my own, I was faced with a new set of challenges, a set of challenges that most people face in this time of life. What was I going to do after high school and how was I going to use my life to honor God and bless those around me? Looking at the gifts that God gave me, I came to the conclusion that I was going to become a teacher in a Christian school and help encourage others along in their walk with God. God brought me through the storms of college life and abundantly blessed me with a wonderful man who also loved God and wanted to create a beautiful life together, following God the whole way as we were married, started our life together, and started our family.

I have been beyond blessed by a Savior who loves me and forgives me, even when I fail time and time again. The joy of the knowledge of salvation provides the comfort and encouragement needed in times of struggle in this world. I am so thankful every day that God sent Jesus to this earth for me, to reconcile me to Him, and to promise me life with Him forever. I pray that every day, God will continue to strengthen my faith and knowledge of Him and that He would use me to further His kingdom and bless others.
Our Christian Commitment
God's amazing love for us inspires us to live our lives as people who have been redeemed and loved beyond understanding. We know that our faith is the most important part of our lives. Because of this, we are very involved in our church, it is almost like a second home to us. Amanda is actually the Director of Christian Education and helps facilitate all educational opportunities for the youngest to the oldest. Jake is an elder and uses his IT skills to keep our church up on the latest technology. Both Jake and Amanda lead the youth group and attend Bible studies and weekly worship as they grow in faith together. Abigail attends Sunday School and Wednesday School at church and loves learning more about God. We strive to do daily family devotions and prayer and encourage each other in our walk as Christians in a broken world.
Vision For Raising A Child
As a Christian family, any child brought into our home will know the love of God from day one. We live our faith walk out in every aspect of our lives. When we raise a child in our home, everything from spending time together, education, decisions, discipline, etc. will be based on the love the Father has for us. We will be in daily prayer for any child in our home; that they may know the love and forgiveness of their Savior, that they will grow to love God, and that we as parents will be given wisdom and guidance in raising a child.